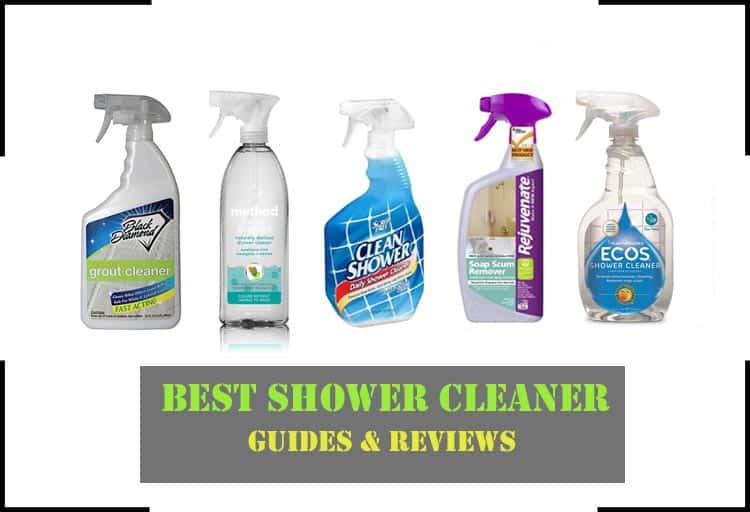 Are you tired of spending countless hours cleaning your bathroom? With the best shower cleaner in hand, this will be a thing of the past. Bathrooms are by far one of the most used spaces in most homes. At the very least each family member visits the bathroom twice in a day. For this reason, it is imperative that the bathroom and all accessories present are kept hygienic and clean at all times.
But this is easier said than done. Cleaning the areas in the shower is a tasking chore – many dread it. But with the help of the best shower cleaners, you will glide through this chore with ease. In this piece, we discuss and review some of the best options available. We sieve through the sea of shower cleaners and present you with only the best, and that are worth your time and money.
Top 4 Best Shower Cleaners Compared
Below is a comprehensive guide to help you choose the best-rated shower cleaner for your needs. The list contains a total of top 3 best shower cleaners – the best in the industry. If you do not have time to read through the entire piece, below is a comparison chart to provide you with an overview of what to expect from each product.
| Picture | Product | Type | Price |
| --- | --- | --- | --- |
| | Method Daily Shower Spray Cleaner | After shower cleaner | Check Price |
| | Scrubbing Bubbles Automatic Shower Cleaner | Automatic Shower Cleaner | Check Price |
| | Clean Shower | Daily Shower Cleaner | Check Price |
Method Daily Shower Spray Cleaner
I love it for a couple of reasons but mainly because it is created using non-toxic ingredients that break down grime and dirt naturally. The formula, a combination of corn-starch and lactic acid easily dissolve mildew. Additionally, this mixture prevents the buildup of lime deposits and soap scum. It leaves behind a fresh smell with the surfaces gleaming clean.
Speaking of fresh smell, the formula contains a blend of citron, bergamot, eucalyptus, and mint. The shower smells like forest. In an industry full of cleaning products with boring and bland smells, Method prides itself in providing products that have great scents. It does not cause irritation.
The shower cleaning formula is contained in 100% recyclable bottle. This actively helps in reducing plastic waste and keeping the environment clean. The solution is also biodegradable. 70% of all the organic ingredients break down in just 28 days. Crowning it all, Method does not experiment or perform tests on animals.
Features
The Formula is created using natural ingredients
It has no harsh bleach or chemicals
Easy and quick to use, saves time
Recycled plastic bottle
It is never animal tested
Pros
Contains non-toxic ingredients
Perfect for non-porous surfaces
It is biodegradable (within 28 days)
No scrubbing is needed when used daily
Cons
It is not strong enough to penetrate thick layers of soap scum
Scrubbing Bubbles Automatic Shower Cleaner
The best way I can describe this is as my 'cleaning partner.' The cleaning solution will get rid of soap stain, watermarks, dirt and scum following a relaxing hot water shower. After installation, all I had to do was press a button and let the cleaning happen automatically. When the cleaning is complete, it turns off automatically. This pack lasts for 30 days and is perfect for all shower types and surfaces.
The unit features a 360-degree rotating mechanism and a dual sprayer. These allow for the unit to cover the four walls and the bathtub with ease. The spinning is quiet. When you purchase this unit, I recommend you engage the booster button for more power and cleaning efficiency. In this mode, the technology releases stronger sprays.
Features
Has a 34-ounce liquid capacity
East to use simple touch button
360-degree rotation
Dual sprayer
30 day guaranteed cleanliness
Pros
Functional and gets rid of stains, watermarks, soap scum and dirt fast
Versatile and usable in different bathrooms and showers
Gets rid of bad odor
Installation is straightforward and easy
Cons
It is not effective when used in spacious bathrooms
It is slightly expensive compared to other options
If you want to know more about scrubbing bubbles, you can watch below video
The Bucko Soap Scum and Grime Remover
Usually, the mixture of hard water and soap leads to soap scum, tough stains, or spots on bathroom surfaces. These issues don't show up in a week; rather, they take like a couple of months or years to make your shower look dirty.
Nevertheless, with the Bucko Remover shower cleaner, you won't have to worry about soap scum or hard water stains on your bathroom floor, tub, or basin. Additionally, the cleaner can clean grime, mold, and mildew as well.
The shower cleaner is made up of non-toxic ingredients and leaves a light lemon scent after every cleaning job. You will only need to spray for most jobs and skip the scrubbing part. It means you don't need to wipe or scrub, making it convenient for cleaning.
However, if you come through hard water stains or mold, then you may need to add a few drops of elbow grease for cleaning. The cleaner, along with the grease, is certain to make your cleaning experience smooth and leave your shower squeaky clean.
Features
The cleaner is able to clean tough stains, and soap scum
Doesn't have any harmful ingredients or chemicals
The cleaner can clean mold and mildew
It will leave a beautiful lemon scent after you clean
Pros
The cleaner allows scrub-free cleaning
Spray like once or twice to clean everything
Can be used on glass shower doors, tub, and other surfaces
The cleaner is safe for kids and home equipment
Cons
Not the best cleaner for glass doors made of fiberglass
You may need to use Magic Eraser with the cleaning solution to clean hard water stains
Clean Shower
It is a product of a popular brand – Arm & Hammer. It comes in 32 fl. Oz bottles. I recommend its use as it matches the industry standard of purity. Unlike most shower cleaners, Clean Shower gets rid of mildew stains and soap scum easily. It also prevents reattachment and buildup. All you need to do is spray and wait for it to work the magic.
Yes, with this unit, no scrubbing is required. And the best part is that it is free of harmful chemical fumes. Instead, it features a clean and fresh scent. I used it on all my shower surfaces, and it worked great. The fact that it is bleach free makes this possible.
To achieve best results with this unit, I realized I had to clean the shower surfaces first. The surfaces need to be wet and warm for best results. Once the cleaner is sprayed, you allow for a few minutes and later wipe and rinse.
Features
It is Blue in color
Does not contain bleach or harsh chemicals
It is 32 fl. Oz.
No need to scrub
Pros
It prevents mildew and soap scum builds up
It has a fresh scent
Can be used on all shower surfaces including vinyl shower curtains and shower doors
Does not leave a residue when used right
Cons
It might cause surfaces to be slippery. Run the shower or tub before using it after cleaning
You need to wash the shower thoroughly before using it
How to Choose the Best Shower Cleaners – Features To Consider Before Buying
Bathrooms have all kinds of different accessories, surfaces, and products that require maintenance. Shower cleaners are the perfect tool for the job. Now that we have looked at some of the best products on the market, below are some considerations you ought to make to land the best cleaner outside of this list.
Sometimes, you will need to think about what type of surface you are going to clean. Not all shower cleaners are suitable for all the different surfaces out there. Some are suitable for glass shower doors; some are for ceramic tub and etc.
Surface specific cleaners are most efficient in cleaning. Many of them will give you the best and fastest result.
You can also purchase an all-in-one product for multiple purposes. The type of cleaner won't have the best results, but it can surely get the job done.
Although this is not the most important feature, it still draws the interest of many people. Cleaning products with beautiful odor leaves or makes your shower smell fresh. Moreover, a lot of the top-notch cleaner brands use the particular feature; thus, it's related to the assurance of good quality for such products.
If you are a stickler for preserving the environment, you should pick an environmentally friendly product. These are derived from plants and do not harm the environment. The ingredients and agents used are natural and biodegradable.
Components or formula plays a big part in a shower cleaner. You must make sure your product is free of any harsh chemicals that can harm the surfaces of your shower.
On the other hand, if you need to get rid of soap scum or stains then, go for a cleaner, which has the same portion of vinegar and water. Cleaners or products with a large amount of baking soda is best against mold mildew and normal stains.
Conclusion
Finding a suitable cleaning product for your shower surfaces and fixtures can prove to be a difficult process. This is especially if the shower and the walls are overgrown with mildew and mold. Our manually handpicked best shower cleaners will help you get rid of all the stains other cleaning products cannot. Additionally, it will ensure that the mold will keep the mold and mildew from reappearing.
To keep your bathroom clean, you only need one great cleaning product. Luckily, the market is full of multipurpose shower cleaners. These will help you save cash in the process. I am confident that the information in this buying guide will have you enjoy a cleaner bathroom. You will spend less time cleaning as well.