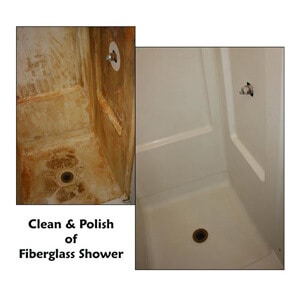 Fiberglass showers are noted for their glossy appearance and high durability.
Fiberglass is an inexpensive alternative to porcelain. However, soap scum and hard water deposits can make it look grungy and unkempt.
Fiberglass is not as sturdy as ceramic or porcelain. It's sensitive to deep scouring that may cause permanent scratches.
Studies recommend using chemical-free, non-abrasive, more natural methods.
How to Clean Fiberglass Shower: 4 easy steps
1. Use non-abrasive cleaning products:
Dish washing liquid
Laundry detergent
All-purpose household cleaners made for use with fiberglass
2. Set up a Cleaning Program
While your monthly cleaning is standard, a regular once-over between scheduled cleaning will help keep build-up at bay.
After daily use, wipe down the shower with a squeegee or microfiber cloth. It helps reduce moisture and repels mold and mildew build-up on the fiberglass.
You can also let a fan blow on the shower to help the moisture to evaporate.
Have a spray bottle of vinegar on hand to help disinfect and deodorize the shower after each use. The vinegar will retard bacteria growth, and reduce the need for hard scrubbing.
3.Protect the Fiberglass
Fiberglass can stain easily. It's best not to store bath items on the floor of the shower that may cause dirt rings to form. Studies recommend installing a shelf or caddy to help keep shower items tidy. 
Scratch Prevention:
Fiberglass comprises small fragments of glass fused into a solid surface. It will, therefore, scratch easily if scrubbed harshly.
Choose cleaning materials made with:
Polyester
Nylon
Polyethylene
Sponge
Non-scratching brushes
4. Minimize Bacteria Build-up
Bath items like shower curtains, rubber toys and accessories can cause bacteria to form where they touch the fiberglass.
Before you start cleaning, take down the shower curtain and remove any toys and accessories.
Clean them in a vinegar solution before re-installing.
How to clean fiberglass shower: Natural Methods
Soft scouring pads
Microfiber Cloths
Sponges
Squeegees
Spray bottle white vinegar
Lemon juice
Peroxide
Household bleach
Old toothbrush
Borax
Baking Soda
 As with any cleaning regimen, wear a pair of gloves to protect your hands and skin.
     1. Vinegar and baking soda
They are two natural, inexpensive cleaners that help keep fiberglass clean. Very gentle, and won't scratch the shower surface. They work well to clean, disinfect and deodorize your shower.
Methods:
Mix the vinegar and baking soda to a paste.
Place it around the shower and wipe the walls with a cloth or toothbrush.
Rinse the area after scrubbing and wipe it dry, or
Spread the baking soda around first, then spray on the vinegar and rub in the usual way.
For tougher marks, let the solution sit on the shower walls for as long as possible to help break down marks.
Rinse well afterward.
You can see below video for more information
      2. Peroxide
Peroxide is another natural cleaner that is an effective stain remover. For hard-to scrub stains on fiberglass, add a few drops of peroxide to the baking soda or vinegar.
Mix two parts baking soda to 1 part peroxide.
Put the mixture on a cloth or sponge and smear it on the shower walls. Leave it in the shower for a while to help dissolve the stains.
Wipe the area clean and dry it thoroughly.
      3. Borax and Lemon
Lemon is long known as a potent cleanser, and borax is an old-aged name in cleaning. The two combined can help reduce staining on fiberglass. A mixture of borax and a few table spoons of lemon juice will work.
       4.Household Bleach
A solution of household bleach and water can help get rid of tough stains left by grime, mold, and algae.
Method:
Mix equal amounts of bleach and water in a spray bottle.
Spread it on the areas and let it sit for a while.
Work the solution into the surface with a sponge or microfiber cloth until the marks begin to disappear.
Rinse and wipe clean and dry.
How to Clean Hard Water Stains:
Bath water can cause stains and limescale to accumulate on fiberglass. It's recommended to use a product that can remove mineral deposits. Some items include:
Zud contains soft, non-abrasive, easy to use, all-purpose household cleaner. It also contains oxalic acid that is good for removing rust from surfaces. It helps remove mineral deposits and cleans and shines surfaces with little scrubbing effort.
Method:
Sprinkle around the shower; rub with a damp cloth until the surface is clean. Wipe the area dry.
Calcium, Lime and Rust Remover (CLR)help remove limescale, mineral deposits,and rust from shower surfaces.
Method:
Combine equal parts water and CLR with warm water.
Test a small patch of the fiberglass before spreading it on the entire
Apply it directly on unsightly marks or place it on a sponge or cloth.
For hard to remove stains:
Apply CLR full-strength to the affected areas.
Do not let it sit for too long.
Wipe down the shower, rinse and dry thoroughly.
Caution:
To avoid toxic fumes, open any windows and the bathroom door to allow air to circulate.
Always wear gloves. To avoid slipping, do not use CLR on the shower floor.
Line-A-Way cleaner helps remove limescale, rust and mineral deposits from surfaces. Use in your fibreglass showers to keep build up to a minimum.
Method:
Spray on to the shower and wipe with a cloth or sponge. Wipe and dry the fiberglass to a good shine.
Commercial Cleaning:
If there are tough stains or large deposits of mold and mildew, it's best to get a professional to tackle the problem.
Re-Conditioning:
Studies recommend twice-yearly conditioning to help keep your fiberglass shower free from scratches.
Use a cream wax or automotive polishing formula to shine fiberglass.
Place a small amount of wax or polish on a cloth or sponge and work it into the surfaces.
Wipe clean and dry the entire area.
Caution:
To avoid slipping from waxy products, only apply to the shower walls and not the shower base.
Conclusion:
Your fiberglass shower can last for years if kept consistently clean and bright. A regular cleaning regimen will help keep it sparkling and attractive. Use natural, non-abrasive cleaners and scouring materials.  If all else fails, get professional help.