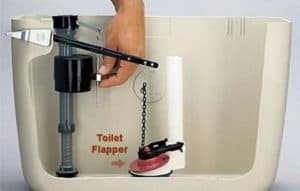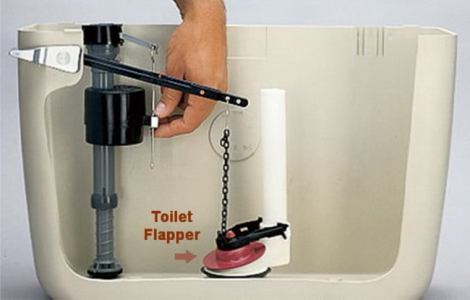 Every time when something you use on regular basis breaks, it's a game of time to get it fixed as soon as possible.
Bathroom appliances are very important to our life. We depend on them, and we use them daily. But do you need to call your local plumber if something breaks or jams?
Absolutely not. You don't need to be a genius to understand how a toilet works. Understanding the parts of a toilet is enough of knowledge to be able to fix something.
Toilet flusher is part of a toilet that we use daily. But, it's a product that is replaceable. Learning how to fix a toilet flusher is useful, and can help you anytime.
What is a Toilet Flusher?
Toilet flusher is a part of the toilet which helps us to get water in the toilet bowl. It's located in the water tank. Its main role is to release the water whenever we want to.
With a simple push of a button, we activate toilet flusher. It will always release the water that is being held in the water tank. The water in the tank helps us dispose of human waste in the bowl.
Toilet flusher is part of the toilet mechanism. Therefore, since it's located in the water tank, it's most of the time located in the water.
It's made from a durable plastic or PVC material; however, everything has its life expectancy. Still, there are situations where toilet flusher can't perform as it did when it was brand new.
No flusher out there is the same. That's mostly due to many different manufacturers. Although, you can be sure that every toilet flusher has the same role in the water tank system.
Toilet flushers are activated by button, or by a handlebar – if it's unreachable to the height location.
Parts of a Toilet Flusher
Toilet flusher is part of a water tank mechanism. Therefore, it has to be in sync with other parts of water tank mechanism in order to perform well.
Parts of a toiler flusher are:
Push button leveler
Ballcock
Float rod
Float ball
Flush valve
Tank hardware
Push Button Leveler
Everyone is familiar with a push button leveler. It's the button or a handlebar we press or pull whenever we want to flush the toilet. It's a button that activates all the parts inside the water tank mechanism.
Ballcock
The ballcock is a key part of the water tank mechanism. It refills the water tank, and it keeps it from overfilling. It's connected to the water source. It supplies the water tank with water through ballcock.
Float Rod
Float rod is a piece that connects the ballcock and float ball. Its job is to help ballcock know when the water tank is full. Therefore, ballcock will close the valve and won't overfill the water tank.
Float Ball
Float ball's job is too simple. It's a light ball filled with air that floats on top of the water in the tank. As it goes up, it moves the float rod that closes the ballcock valve.
Flush Valve
The flush valve connects to a push button leveler. Once you press the push button leveler, flush valve opens. That way, the water knows when to flush the toilet bowl and dispose of your human waste.
Tank Hardware
Tank hardware will help you to attach the water tank to the wall and keep it safe from moving or falling off.
How to Fix a Toilet Flusher?
Let's face it – toilet flusher can break from time to time. It's a product that has a key part in the toilet system. However, it has its life expectancy.
Most of the time, toilet flusher can be fixed. As mentioned above, anyone who understands the parts of the toilet can fix it as well. There is no need to call your plumber for every problem that occurs.
Toilet water tank is full of moving parts. And moving parts can often wear out or get broken. Sometimes, they even can start acting weird without being actually broken.
Before fixing a toilet flusher, it's important that you find the problem first. Finding out what is the problem isn't complicated at all.
Look Out for Leaks
First, look out for any leaks. Once you find any leaking, you'll easily understand what's causing the problem. The solution depends on what's causing the problem.
Lift off the Tank Cover
However, if you don't find any leaks, you should lift off the tank cover. Get an eye on the toilet mechanism and hopefully find what's causing the problem.
Now you understand the water tank mechanism parts. It's going to be easy to guide yourself when you're looking at the toilet mechanism.
Look Inside the water tank
To determine what's causing the problem inside the water tank, you have to look. You should look at the flush valve first. Try adjusting the float rod and ball. It will fix your problem in case it was leaking or not getting the right amount of water.
Reattaching the flush valve
If the problem is leaking water in the toilet bowl, you should definitely have a look at the flush valve. If it's not closed properly, water will leak. Solution would be to try and close the flush valve yourself with hand. If that works, you will have to find a way to keep it completely closed. Reattaching the flush valve can help.
Can Toilet Flusher Be Replaced?
If you can't find your way of fixing the toilet flusher, there's another option. Most of the parts inside the water tank, including the toilet flusher parts, can be replaced.
Instead of buying a completely new water tank, you can buy the mechanism. Just the part which is causing the problem. It will save you more time and money.
Replacing parts is useful when you know what the problem is, however, you can't fix it. For example, if float rod gets broken.
You can watch below video for your better understanding
Conclusion
Fixing your toilet flusher isn't complicated as many people think it is. However, you need to learn how a toilet works and learn the parts inside.
You don't need to be a genius, but some interest in learning how to fix a problem is needed.
Everything you need to know is in this post. However, keep in mind that some manufacturers might change the parts.
It might take some time to get used to a different water tank. But mechanism in there is simple and straightforward. It has only one job to do.