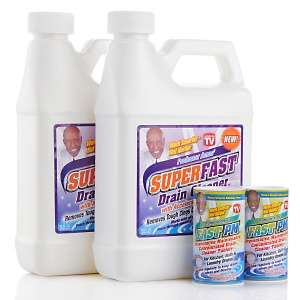 When it comes to drain cleaning, there are so many varieties of products available. A clean, clear drain helps improve water flow wherever you have a faucet.
Popular Plumbing Issues:
Restricted water flows:
Water backs up in the shower,or kitchen sinks and reduces water flow.
Nobody wants to stand in bath water backing up from the drain in the tub or shower.
Heavy Items in the drain:
Your kids may throw small, solid items down the drain and cause blockages.
Clogged pipes:
Trapped drains cause bacteria to build up in the drain and produce unpleasant odors in the kitchen or bathroom.
Heat buildup:
The heat generated at room temperatures compound drain clogs.
Some of the items that clog drains include:
Pet and human hair
Grease
Oils
Soap scum
Shaving cream
Toothpaste
Cosmetic residues
Animal fat
Heavy items in the drain

There's one product that seems to stand out when it comes to cleaning and clearing drains.
Professor Amos Superfast Drain Cleaner is a safe, fast, and effective way to clean clogged drains in a matter of minutes.Okay let us now go for the Professor Amos Superfast Drain Cleaner Review.
How does it work?
Professor Amos Superfast Drain Cleaner works to break down bacteria buildup and other particles in the drain.
It's the only cleaner in America that dissolves pet and human hair in the drains.
 The organic compounds in the product:
Dissolves: hair, grease, food particles, greases, and oils
Breaks down: clogs,
Reduces all particles into foam
Leaves no bulky residues; it cleans and clears drains
Deodorizes : removes drain flies, bacteria buildup, and unpleasant odors
Drain Opener: Removes sediment to help keep the drains clear.
Is Professor Amos Superfast Drain Cleaner safe to use?
The Superfast Drain Cleaner does not contain:
strong chemical odors
caustic ingredients
bleach, ammonia or acids
Here are some features of the product:
Easy to Use
With Professor Amos Superfast Drain Cleaner, you can have a clean, clear drain in almost 15 minutes.
It takes the hassle out of calling a plumber by making basic plumbing issues more manageable.
It makes cleaning clogged drains a more pleasant experience.
You pour the required amount into the drain.
Flush with hot water after ten to fifteen minutes.
There's no need to plunge the drain.
No need for snakes
It works almost instantly. There's a short waiting period.
Versatility
Professor Amos Superfast Drain Cleaner is very functional. You can use it in many areas around the home.
Kitchen
Bathrooms
Guest Room/Powder Room
Laundry Tubs
Floor Drains
Basement Drains
Commercial Uses include:
Beauty Salons
Barber Shops
Hospitals
Restaurants
Apartments
Pet Grooming parlors
Hotels
Functionality:
Professor Amos Superfast Drain Cleanerhas a powerful cleaning action.
It works quickly to dissolve all types of organic materials in pipe drains.
Unlike other cleaners, it dissolves, cleans, clears and deodorizes drains in a matter of minutes.
It is activated with hot water to dissolve matter in the drains quickly.
Economical:
While Professor Amos Superfast Drain Cleaner may cost a bit more than other cleaning products, the benefits are worth the price.
There are no:
Plumber's fees
Maintenance costs
A little goes a long way: use between 6-8 ounces per application.
It's a multi-purpose cleaner all in one.
It de-greases, de-clogs, deodorizes, cleans, and clears drain.
Is Professor Amos Superfast Drain Cleaner safe for Septic Tanks?
Professor Amos Superfast Drain Cleaner works well and is safe to use in:
Septic Tanks
Cesspools
Public sewage Systems
Your septic tank is the central area that collects all the waste water from your bathrooms, kitchens, and laundry.The septic tank stores and separates the waste water from solid matter.It stores the wastewater until the solid items like soap, grease, oils and other particles settle to the bottom of the tank.From time to time, build up can also cause blockages in your septic tank, and you will need to clean it.If clogs in the septic tank are left to build up over time, the wastewater will back up into your plumbing system.
Application:
Pour Professor Amos Superfast Drain Cleaner into the septic tank to break down organic materials. You can use it at least once per month to help keep the tank flowing freely.
Is it safe to use on various types of plumbing?
Professor Amos Superfast Drain Cleaner is safe to use with pvc pipes, copper and other types of plumbing materials.
Is it safe to use with my dishwasher and garbage disposal?
Professor Amos Superfast Drain Cleaner is not safe for use with your dishwasher or garbage disposal.It's best to use Microbial Preventative Maintenance Powder instead of Professor Amos . The powder is great for keeping the drains in dishwashers and washing machines clean and clear.
Cautions:
As with any product, follow the guidelines for safe use. Although Professor Amos Superfast Drain Cleaner is a safer option for clearing the drains, use it only as directed.It's not safe to mix the product with any chemicals, acids or bleaches.
Buyer's Guide:
Professor Amos Cleaners come in a range of products for every household job imaginable.
Choose the type of cleaner that best suits your unique plumbing problem.
The Superfast Drain Cleaner is like a one-stop shop for cleaning and clearing clogged drains.
For dishwashers and garbage disposals, use the Microbial Preventative Maintenance Powder for best results.
Pros
It works fast and cleans well; no need to call a plumber.
Improves water flows: There's a significant improvement in water flow in the cleared drains.
It's economical: there's value for money and multi-purpose.
It's authentic: it matches the advertisements.
Its cost competitive
Cons
Cost restrictive
Had to use it multiple times
You can also check below video for better understanding
Conclusion:
Professor Amos Superfast Drain Cleaner works swiftly and powerfully to help break down gooey, messy, smelly gunk in your drains.It is multi-purpose, and you can use it in the kitchen, bathroom, laundry, basements and floor drains.It takes all the messy plumbing work out of clearing the drains around your home. A quick application and a hot water flush will have your drains clean and clear in minutes.