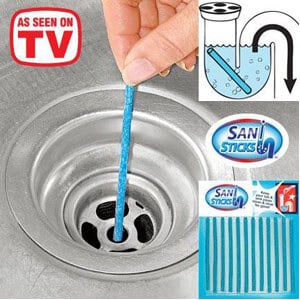 Over time, your plumbing system may experience wear and tear that may cause sewer gases to escape into your home.Some of the most common plumbing complaints include clogged drains and unpleasant odors.
Drain flies may attack material in the sink and help create unpleasant, embarrassing odors in your home.Clogged drains may also cause water to back up in your shower or tub, and your shower experience can suffer as a result. Blocked up sewage in drains in your kitchen, bathrooms or utility rooms may contain methane or other gases that may be flammable.
Before you decide to call a plumber, you can save time and substantial costs by using other natural methods. One such method is using Sani Sticks with enzymes, to help eliminate bad odors and blockages.
In some recent Sani Sticks review, customers report that it helped to clear the drains and minimize odors. Sani Sticks are designed to help reduce or eliminate some of the issues in and around the home. But before getting on to the point we need to know some basic such as:
The common materials that clog your drain include:
Hairand sludge, soap scum, oil, grease, animal fat, and food particles. They block up the pipes and cause the water flow to slow down.
Some of the problems which we face due to clogged drain:
Backed up sewer systems
Leaks
Corroded or cracked pipe drains
Clogged drains
Disjointed pipe connections
Worn out toilet tax rings
Dry pipe traps
Inadequate vent pipes
Unpleasant drain odors
The areas which are commonly affected:
 Apart from your regular shower, infrequently used guest bathrooms or powder rooms can build up unpleasant odors.
So what are Sani Sticks?
Sani Sticks are long, thin, circular skewer-like sticks that claim to help clean and clear clogs and eliminate unpleasant odors in the drain. They are over 6 inches long and come in packages of 48.
Do Sani Sticks Work?

This is a very common question and if we want to be honest with you the answer is "yes". Before writing this article, honestly we also have the same question, Do sani sticks really work?
After having a close look and study we found out that Sani Sticks contain potent, slow-releasing biodegradable enzymes that help break down and absorb and liquefy organic matter.
They sit in the pipe and begin to work as soon as they go into the drain.When the water flows through the pipe lines, it runs over the sticks and activates the enzymes.  As they absorb the water, the enzymes are activated and begin to release its clearing power to break up and absorb matter in the drains. They stop odors on contact to help drive them away. Your room becomes fresher and cleaner over time.
As the clogs dissolve, it helps increase water flow through the pipes.
Different Types of Sani Sticks
Sani Sticks are flexible and come in a variety of scents and colors. They fit easily into most drains and begin to work instantly.
Studies show that various scents help freshen and restore good balance in every area of your home. Here are some suggestions to add a breath of fresh air around your home:
| Product Image | Scent Type | Area of Use | Check Price |
| --- | --- | --- | --- |
| | Rose Scent | Can be used in almost any room to release a sweet-smelling perfume-like fragrance to keep odors at bay | Check Price |
| | Orange Scent | Helpful in the kitchen and laundry sinks to keep the drains clean and clear. | Check Price |
| | Lavender Scent | Helps eliminate bathroom odors and leaves a relaxing, calming atmosphere. No need to feel embarrassed when guests come over | Check Price |
| | Lemon Scent | Cleansing and rejuvenating. Ideal for kitchen drains to keep them smelling fresh and clean. | Check Price |
| | Unscented | Ideal for persons who may be sensitive to certain scents. They get the job done equally well. | Check Price |
Benefits to using Sani Sticks
 Economical
Sani sticks are designed to help by saving plumbing costs and drain snakes.
 Durable
The long-lasting benefits are said to last for up to one year.
 Flexible
It's a good idea to add Sani Sticks to your regular cleaning schedule.
 Increases overall water flow
It also helps improve water flows in showers, sinks, laundries, and kitchens.
Are Sani Sticks Safe to use In Septic Tanks?
The manufactures claim the product is safe to use in septic tanks, tubs, and shower drains as well as all types of plumbing materials. These materials include plastic and copper pipes.
Any product that helps keep septic tanks clear is worth a try.
It's important to keep your septic tank clear for as long as possible. Here is where all the waste water from the plumbing in your home accumulates.The septic tank acts as a receptor to help separate the solid from liquid matter that goes down your drains.When the system is not working due to over-logged pipes, the water begins to back up into your drains.
 Sani Sticks ingredients
Sani Sticks contain natural, non-toxic, safe, organic enzymes that use fast acting compounds to break down organic matter.They work similarly to how enzymes help absorb and metabolize foods in the human body.The enzymes in Sani Sticks are highly concentrated and long-lasting.
How do sani sticks work?
Sani sticks just work like magic.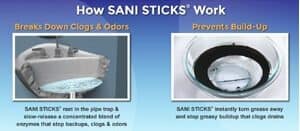 Insert one Sani Stick into the affected drain at least once per month. Use it in every room with a pipe drain; in the kitchen, shower, laundry and guest bathroom.
It helps dissolve buildup and helps remove and neutralize offensive odors caused by accumulated bacteria in the drains.
Please watch below video for a quick guide
Do sani sticks dissolve completely?
The answer for this question is yes, they dissolve completely. However,some drains may take longer to clear depending on the level of buildup.Customers are generally satisfied with the clearing power.
Other studies suggest using other natural materials like vinegar or baking soda before applying the sticks to help break down drain material.
Do sani sticks dissolve hair?
The manufactures claim that Sani Sticks remove hair. There are mixed reviews about its potency.
Are Sani Sticks effective in Unclogging Drains?
Some studies suggest Sani Sticks may work better for preventing drains than unclogging already blocked drains. However, most users are satisfied with the clearing ability of the sticks.
Some customers claim the product may allow chunks of matter to lodge around the sticks and cause further blockages
Pros
Sani Sticks contain safe, organic, biodegradable enzymes that act quickly to dissolve matter in clogged drains.
They are cleansing and deodorizing.
They are economical and help reduce plumbing costs. There are 48 sticks in a package so that you can use them in many areas all at once.
They are long-lasting. One stick is said to last for up to 30 days.
The product is environment friendly.
They are convenient and easy to use.
They work as advertised and are easy to apply.
Customers experienced consistently good results.
They begin to work on contact.
A variety of scents to help keep rooms deodorized. They eliminate odors for a fresher, cleaner room.
Cons
Some customers experienced no significant results from using Sani Sticks.
They claim the design of the sticks may cause additional clogging in the drains.
The sticks are flexible and may break easily.
There's an unsightly mess when the sticks come out of the drain.
Some claim Sani Sticks may take longer to work than chemicals and may be more effective in preventing rather than treating clogs.
  How do Sani sticks compare with similar products?
Most customers say Sani Sticks work well in comparison to similar products.
Overall, customers like the fact that the sticks tend to last longer than other products on the market. They save by reducing costs for other methods.
They like the short turnaround time between ordering and delivery, and most are pleased the packages arrive intact.
Customer service is generally prompt and professional. However, a few customers experienced difficulties negotiating refunds.
A few customers claim the product did not work as advertised. Another user said they tried other products, but Sani Sticks got rid of pesky drain flies.
Overall, the majority of users polled are very satisfied with Sani Sticks. Many reported great results as advertised.
   Buyer's Guide
As with any product, there are a few things of which you should be aware. Sani Sticks come in packages of 48. You get huge discounts if you order more on one invoice.
There is a 30-day trial period. You can return Sani Sticks for a full refund if you are dissatisfied with the product. However,you may forfeit at least half the shipping cost.
     Conclusion
Every homeowner likes a fresh, clean, orderly well-functioning home. Nobody likes to deal with backed up drains and embarrassing odors. Sani Sticks contain organic, fast acting, biodegradable enzymes that help break down clogs in the drains and also cleans and deodorizes.They are long-lasting and last for up to one month. When you insert the sticks into the drain, the enzymes go to work immediately to help remove buildup and clear clogged drains.
Among a significant percentage of Sani Sticks review, customers testify that they work. Put the power of Sani Sticks to work around your home to help keep your drains clean, clear, and sweet smelling.